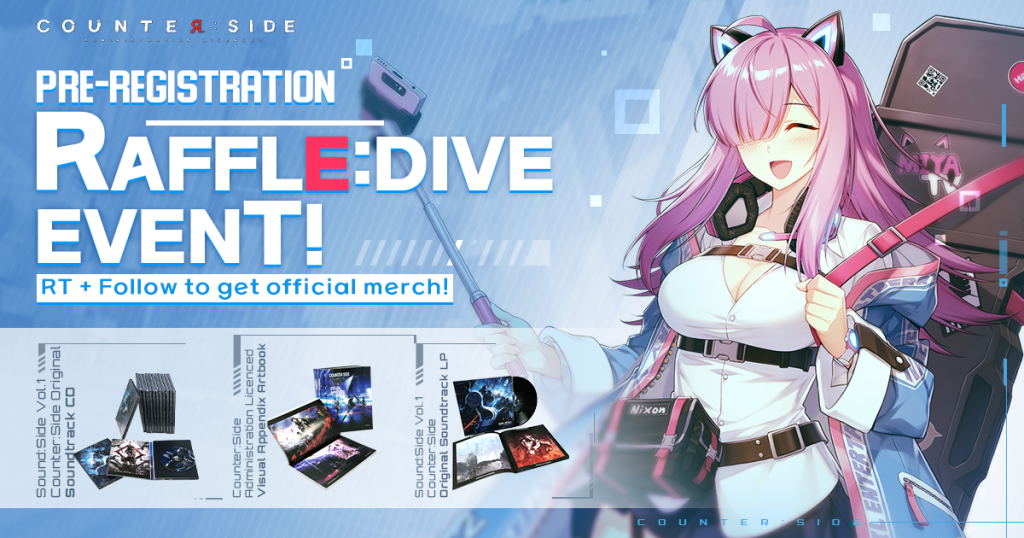 Dear CEOs,
We love seeing how excited you are about the pre-registration period for Counterside's Global server!
To spice up the excitement, a new event is coming to Twitter!
Are you ready? ⁽⁽◝( ˙ ꒳ ˙ )◜⁾⁾
▶ Event Duration
12th of May, 2022 (UTC-5) – 26th of May, 2022 (UTC-5)
▶ How to Participate
1) Follow Counterside Global on Twitter.
Official Counterside Global Twitter: https://twitter.com/CounterSideGBL
2) Retweet the pre-registration notice. Link: https://twitter.com/CounterSideGBL/status/1524661837853171717
3) You must include the following while you retweet: #CountersideGlobalPreRegister
▶ Event Selection Process
1) 9 winners will be picked randomly from the pool of participants who have Followed and Retweeted.
2) Each time a random account is selected, GM will check the following:
– The account is following the Counterside Global official account.
– Counterside Global pre-registration retweets must be public on that selected account.
If one of the conditions is not met, the participant will automatically be disqualified.
▶ Event Results
The list of 9 winners will be announced on the 3rd of June.
▶ Event Rewards
1) The 9 winners will each receive a set of Counterside merch. The set contains:
– 1 Counterside Administration Licenced Visual Appendix Artbook
– 1 Soundside Vol.1 CounterSide Original Soundtrack LP
– 1 Soundside Vol.1 CounterSide Original Soundtrack CD
▶ Notes
1) Please note that any quote retweet containing inappropriate content could automatically be disqualified from participating in the event.
2) Please remember to enable Twitter DMs, as the winner will receive a Twitter DM from a GM for additional information related to the rewards.
3) If you're one of the winners, upon being contacted by the GM, you'll be prompted to share your address and other necessary personal information for our staff to deliver the reward to you.
4) By sharing your personal information, Studiobside agrees that the Company will not share the received personal information with other entities or staff who are not related to the event.
5) If you have any other questions or concerns related to the event, please contact the GMs via DM through Twitter or Discord.
6) Studiobside reserves the right to change, modify, or cancel the event depending on its circumstances. If any changes occur, they will be notified on this event page.
7) Any matters not listed on this page will follow the Terms of Service, Privacy Policy, Operation Policy, and Event Policy.
We hope for your active participation in the event!
Thank you.