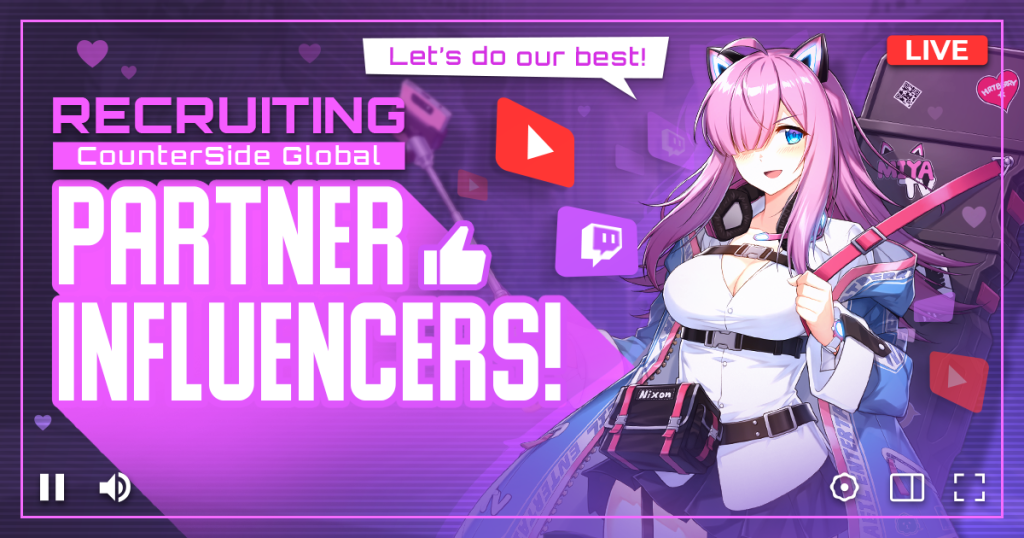 Counterside Global is currently searching for valuable partner influencers who will deliver news about
Counterside Global through various media. ⁽⁽◝( ˙ ꒳ ˙ )◜⁾⁾
▣ Sign-up Period
7th of June, 2022 ~ Until further notice. 24th of June, 2022 (Updated)
※ The sign-up period may end early depending on the number of applications received.
▣ Requirements
· Have personal streaming or VOD channel that is at least 3 months old.
· Submit a link to at least one previously produced video or stream about Counterside or any other game.
* You must meet all the requirements in order to apply for the program.
▣ Responsibilities
Remember to be considerate and respectful of others when working in the Counterside community.
Comply with Counterside's Terms of Service and Operation Policy.
Please avoid play that could negatively affect other players. (Using inappropriate words or actions, matchmaking, exploiting bugs, etc.)
Proceed in Counterside broadcasting (at least 1 hour in length) or upload a Counterside video at least once a week on Global Server upon being selected as a partner influencer.
※In the case participants fail to meet the duties of a partner influencer, they may be disqualified from the Partner Influencer selection.
※ If a partner influencer behaves irresponsibly on or off-air, he or she may lose his/her role as a partner influencer.
▣ Selection Process
Make sure the submitted application is filled with accurate information and meets the application requirements.
After internally discussing it, 10 11 candidates will be selected among the applicants. (modified)
A notice will be uploaded to announce the selected 10 11 people. (modified)
▣ Rewards
Grade
Rewards
Regular partner influencer
▷ 2,500 admin coins
▷ 1 skin (among the ones available for sale)
Special partner influencer
▷ 5,500 admin coins
▷ Special creator frame
▷ 1 skin (among the ones available for sale)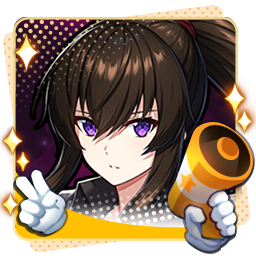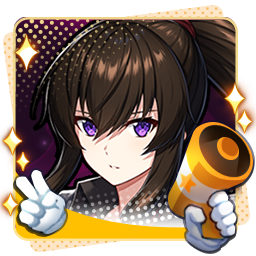 ■ All selected partner influencers will start at the general level.
■ In order to be promoted to special partners, the following aspects will be evaluated:
Consistency – Is the streamer/creator stream/upload videos regularly?
Honesty – Can the audience feel the streamer's or creator's excitement while playing or talking about Counterside?
Respect – Is the streamer/creator respect not only his/her audience, but also the entire audience? Does the streamer/creator respect and follow the Terms of Service, Operation Policy, and Privacy Policy?
Originality – The uniqueness and originality of the streams/videos
Creativity – The effective use of imagination to draw in the audience to the stream/video
★ Compensation will be given on the last day of each month. If a partner enters the program in the middle of the month, his/her rewards will be given starting from the following month.
(e.g. If you entered the program in mid-June, your rewards will be given at the end of July.)
※ Notes
● The recruitment schedule may be changed, modified, or canceled depending on the circumstances. Details of the change will be updated in the corresponding notice, and there will be no separate notice that the change has been made.
● If accurate information is not provided in the recruitment application, the applicant may be excluded from the selection list. Therefore, when applying, please make sure to provide accurate information.
● If the applicant has a history of violating the Terms of Service while using Counterside Global, he/she may be excluded from the selection.
● If a partner influencer does not comply with the Terms of Service, Operation Policy, etc., the partner influencer may be disqualified or excluded from getting any reward.
● If you have any questions about the Partner Influencer Program, please contact customer service.
● For matters not specifically mentioned in the notice, please follow the [Counterside Terms of Service], [Counterside Operation Policy], and [Counterside Event Policy].