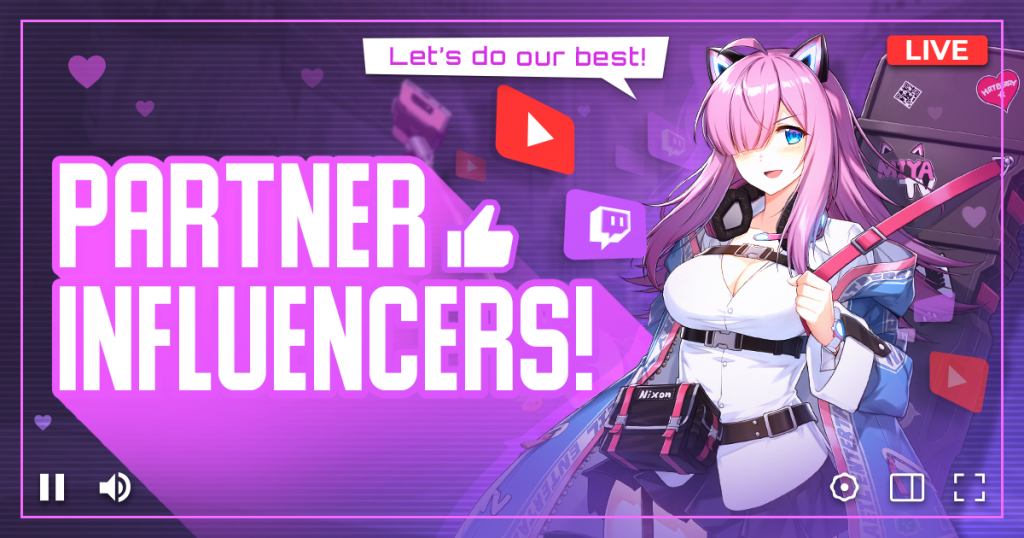 Dear CEOs,
We first thank all those who have applied to the Partner Influencer program. It was a unique opportunity to see what all the global content creators are doing.
About a few hundred applications were submitted during the application period, and after a thorough selection procedure, we would like to finally announce the list of 11 Counterside Global's 1st Generation Partner Influencers!
▷ List of 1st Gen. Counterside Global Partner Influencers
※ Click on their names to access their channels!

Congratulations to all selected 1st generation partner influencers!
If you weren't selected this time, there will be more opportunities for content creators in the future.
▷ Starting Time for Partner Influencers
1st of July, 14:00 (UTC+9)
1st of July, 00:00 (UTC-5)
▷ Responsibilities

1) Proceed in Counterside broadcasting (at least 1 hour in length) or upload a video about Counterside's Global Server at least once a week upon being selected as a partner influencer.
2) Comply with Counterside's Terms of Service, Operation Policy, and Event Policy.
3) Please avoid play that could negatively affect other players. (Using inappropriate words or actions, matchmaking, exploiting bugs, etc.)
4) Remember to be considerate and respectful of others when working in the Counterside community.
※ If participants fail to meet the duties of a partner influencer, they may be disqualified from the Partner Influencer Program.
※ If partner influencers behave irresponsibly on or off-air, they may lose their roles as partner influencers.
※ Notes
A new Discord channel for Partners will be created. Please make sure to join it to access your favorite Partner Influencer's content.
Selected partner influencers will have to contact GM Σigma on Discord with their preferred content platform link (Youtube, Twitch, etc.) if the linked address above is not the preferred one.
If you have any questions about the Partner Influencer Program, please contact customer service or GM Σigma.