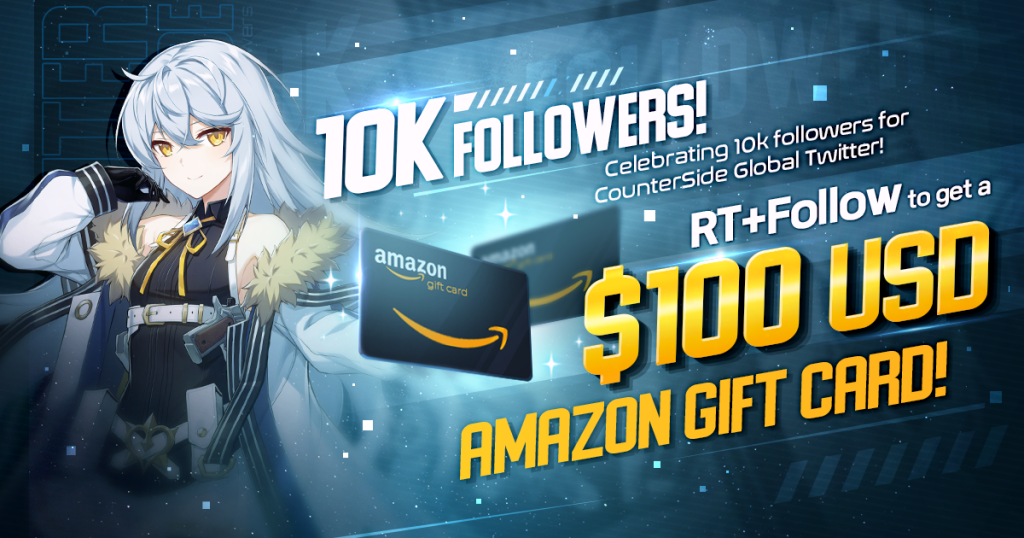 Dear CEOs,
This is such an exciting time for us, because we just hit 10,000 Twitter followers! We truly appreciate all the love and support you've given us thus far. It's been an amazing experience.
To celebrate, we are opening a new event. We count on you to participate!
▶ Event Duration
14th of July 16:00 ~ 28th of July 16:00 (UTC+9)
14th of July 02:00 ~ 28th of July 02:00 (UTC-5)
▶ How to Participate
1) Players must RT the event's tweet and follow the official Twitter account.
Event's tweet: [LINK]
※ Users who have successfully participated will be randomly selected.
▶ Event Rewards
$100 Amazon gift card (1 winner)
$50 Amazon gift card (2 winners)
$20 Amazon gift card (7 winners)
$10 Amazon gift card (38 winners)
▶ Event Results
The list of randomly chosen winners will be released through a separate notice after the event.
▶ Notes
1) Please keep your Twitter account public during the length of the event, so GMs can check your participation.
2) Please keep your Twitter handle (username) as it is until the winner announcement is posted, since GMs will have to check it during the winner selection process.
3) Upon release of the list of winners, winners will be contacted by the GMs via Twitter DMs in order to hand the rewards, so please make sure to leave your DMs open.
4) Studiobside reserves the right to change, modify, or cancel the event depending on its circumstances. If any changes occur, they will be notified on this event page.
5) Any matters not listed on this page will follow the Terms of Service, Privacy Policy, Operation Policy, and Event Policy.
Easy peasy lemon squeezy, ain't it?
Thanks for participating!